Rick Uvaney, a trucker, survived being struck by a SUV in Canton, Ohio with relatively few injuries earlier this week. Uvaney pulled off the freeway to secure his load, when a sudden gust of wind blew his baseball cap he had worn for years into the median. Uvaney walked over to retrieve his hat, and was struck by an SUV. Uvaney's injuries, a broken wrist and dislocated shoulder, could have been much worse. This is a good reminder to remember the old lesson: look both ways before crossing.
For more information on this matter, please review the section on Tractor-Trailer Accidents.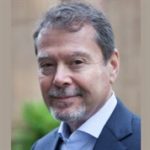 Claude A. Wyle is a partner of Choulos Choulos, and Wyle, a San Francisco based law firm dedicated to representing clients who have been injured by the wrongful conduct of individuals, corporations, public entities, and businesses. Mr. Wyle also frequently sits as a Judge Pro Tem for the city and county of San Francisco.