A driver of a work truck Tuesday afternoon crashed into a car, then rear-ended a Muni bus, and then smashed into another car, in the intersection of Fourth and Howard streets in San Francisco. This serious auto accident, sent two occupants of a Honda struck by the truck to San Francisco General Hospital in critical condition. The man who caused this truck accident with serious personal injuries claims that he had an illness which caused him to crash the truck.
First, the truck driver rear-ended a car travelling along Fourth Street near Minna Street. Next, he stopped for a second, then continued, and struck the rear-end of a stationary bus. Then the truck rebounded off the Muni bus and careened into the intersection where it T-boned a Honda with two men inside. The Honda ricocheted and hit a different truck, which then hit another car.
The two passengers in the Honda sustained serious personal injuries including head and brain injuries, broken bones, and other trauma, and were taken by ambulance to San Francisco General Hospital.
This truck driver claims that the crash was caused by an illness from which he was suffering. The driver was also taken to the hospital. Under California law, a driver who suffers from a sudden illness which causes him to crash, is not negligent if that driver had no notice that he might become ill enough to impede his driving ability. This truck driver told the police that he was on the way home from work because he had been feeling ill. Our team of truck accident attorneys is investigating this collision, and will determine for the two injured men, if this driver was negligent.
The driver was not arrested and the police are still also investigating this truck accident.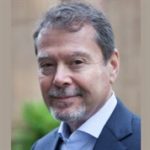 Claude A. Wyle is a partner of Choulos Choulos, and Wyle, a San Francisco based law firm dedicated to representing clients who have been injured by the wrongful conduct of individuals, corporations, public entities, and businesses. Mr. Wyle also frequently sits as a Judge Pro Tem for the city and county of San Francisco.