For outraged commentary by friends and foes of bad biker Joe Silver who caused Harley rider Sam terrible fractures and other personal injuries, and caused the wrongful death of Ronda Anaya, check the link above. Our motorcycle accident attorneys represent the injured Harley rider Sam, and I can tell you that Sam is in agony both physically and emotionally every day. Whether he ever recovers enough to resume his profession is still up in the air, although it is certain that he will never walk normally or without pain. The heated debate referred to above revolves around how harshly the law should treat the rider who killed Ronda and injured Sam.
While many people do not like attorneys, and have very little respect for the civil justice system, it is clear that the criminal system is inadequate to change bad behavior by itself. Only if we make wrongdoers, both individual and corporate, 100% accountable for their actions will we ever be able to change bad behavior. I ride and my partner rides and my paralegal rides, and I can say honestly that the debate is not between cruisers or Harley riders and sport bike riders. Calling Joe Silver's actions in crossing over the double yellow line, around a curve at a high rate of speed a "mistake" is minimizing and belittling his bad conduct. Joe Silver made a conscious choice to pass that day, a choice that cost Ronda Anaya her life, and Sam his health and his ability to walk or earn a living. Any time a biker, whether a cruiser or a sport bike rider crosses that double yellow, they know that it is illegal and that it is dangerous. Still bikers pass over the double yellow, for various reasons. Full civil, along with full criminal, accountability is the key to making people responsible for their choices, and the civil justice system is the only system that is in place to help the survivors of motorcycle accidents. The criminal system puts people in jail and levies fines. But does it put food on the table of the survivors? No.
For more information on this subject matter please refer to the section on Car and Motorcycle Accidents.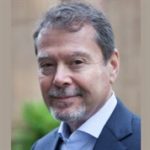 Claude A. Wyle is a partner of Choulos Choulos, and Wyle, a San Francisco based law firm dedicated to representing clients who have been injured by the wrongful conduct of individuals, corporations, public entities, and businesses. Mr. Wyle also frequently sits as a Judge Pro Tem for the city and county of San Francisco.